When I first saw Tiffany top (after seeing Jessica's lovely pink top) I knew that if I find one of them I'll also find the other......= because if you look closely you can definitely see the similarities between them.
I am so happy that I was right because it turns out that Tiffany's top from Healing Camp is also from Isabel Marant's S/S 2014 collection and you can buy it
here
(the top is also available in
white
and
black)
It turns out that
Tiffany
wasn't the only one wearing
Isabel Marant
,
Sooyoung's
pink vest is also from the same designer and it's the '
Garson' frayed denim gilet
which you can buy
here
As you can see the model wears Tiffany's top and also Sooyoung's vest together on the runway
Since I posted finds from Healing Camp I have 2 more finds that I forgot to post
(oh boy I have many finds that I haven't posted...I must get to work :P)
Yuri was wearing the Bambi Sweatshirt from Jain Song.
Now for the last find we have Taeyeon's blue jacket which is from Arche reve's F/W 2013 collection.
Image Credits: SBS, Arche, Jain Song, Farfetch
Ever since I saw the top I wanted so badly to find it and now I have. :D
As the face of Banila Co (this is a make-up brand don't confuse it with Banila B) Jessica filmed a Get it beauty video.
For the video she wore this lovely pink top from Isabel Marant's S/S 2014 collection.
Unfortunately this top is out of stock (and it wasn't affordable), but you can check it out here
Don't you love this top? Because I sure do.
Who: SNSD's Hyoyeon
Where: 140604 Incheon Airport
What: LIMO143R00 dress from Banila B
Who: SNSD's Taeyeon
Where: 140611 Strongest Group filming
What: Show unicorn t-shirt from 2econd floor
I'm so happy I found this t-shirt, isn't it pretty?
I spotted some finds from the other members as well but I'll have to wait for the video or better pictures
Image Credits: Strongest Group, SK fashion mal
Taeyeon MAINMONTAUK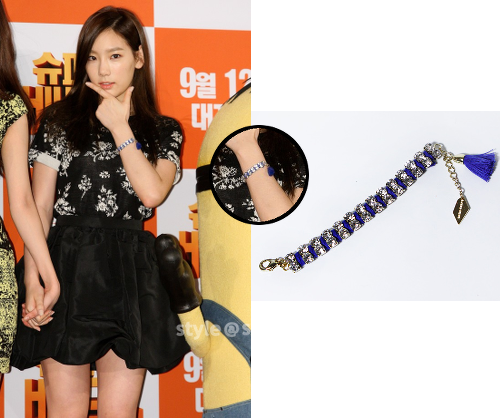 MAINMONTAUK: Two Line Bracelet in Royal Blue @ mainmontauk.com

₩24,000




As seen at: Despicable Me 2 VIP Premiere


I.D. Credit: @rim1105′s Instagram
Image Credits: as tagged