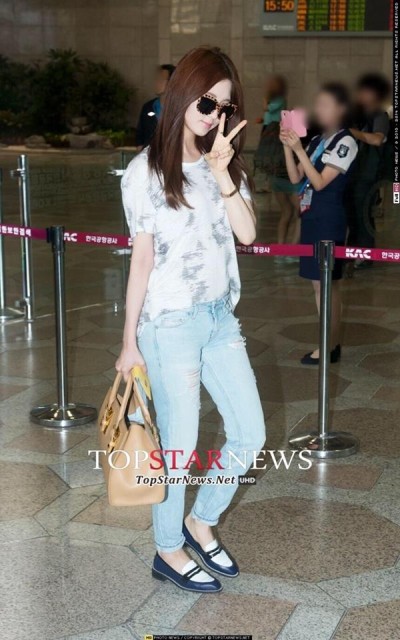 This week, after a very close poll, we have Seohyun walking away as this week's winner for Outfit of the Week!
Ever the subdued type, even in fashion, Seohyun nevertheless made a splash to both you and us here at Style. She started it off with a simple white top with grey splashes, a popular look these days. She paired it with a pair of lightly distressed stone washed jeans, looser than usual, and no doubt allowed her legs to "breath" more. Her feet were adorned with a pair of white-and-blue leather loafers, an unusual look for the girls, but something that definitely fits with the outfit.
Her accessories consisted of a
Soin
350 Tod Beige Tote
and a pair of leopard print sunglasses. Overall, a very good look for a very good maknae.
Congrats to Seohyun for winning this weeks Outfit of the Week, and thank you all for voting!
Credit: Soshified